BRAND GUIDELINES
1. Using the correct logo file
For Print: For print applications, .png should be used unless a larger file size is required, in which case .eps or .ai can be used.
For Web: For web applications, .jpeg should be used.
2. Using the correct logo
Full Logo: The full logo should be used for most applications in either the full colour, white, or black versions. Some examples of applications include posters, business cards, or formal documents.
Banner Logo: The banner logo should be used primarily for letter-head applications, or other situations where a horizontal alignment is required.

Symbol Only: The image only version of the logo should not be used for most items and is primarily for future use when the brand is established. It should never be used on items that promote SpokenWeb-sponsored events, such as event posters, or on Spoken-Web funded research materials.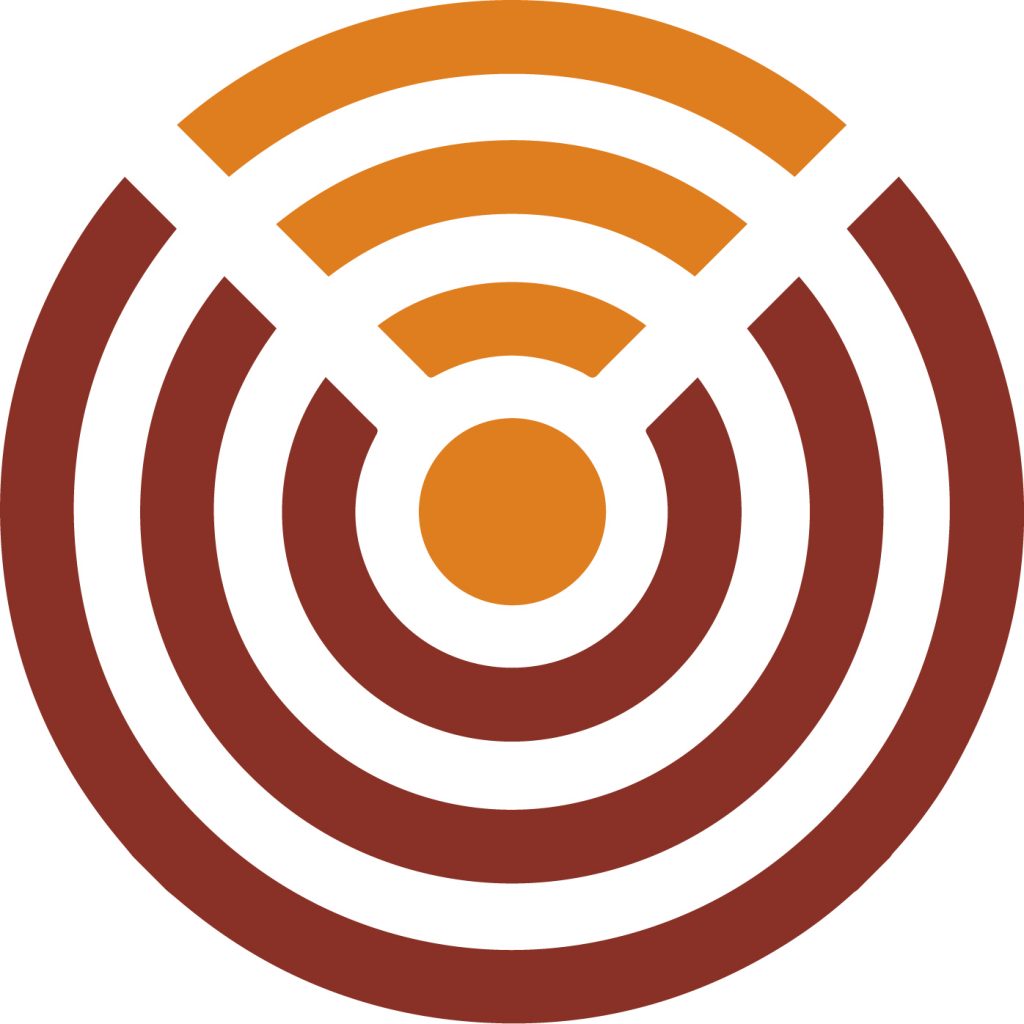 Word Mark Only: Use under similar situations as the symbol only.

3. What not to do
Realign the logo or type

Recolour the logo

Alter the type

Place the logo on a background of the same or similar colour
Use the black or white version instead.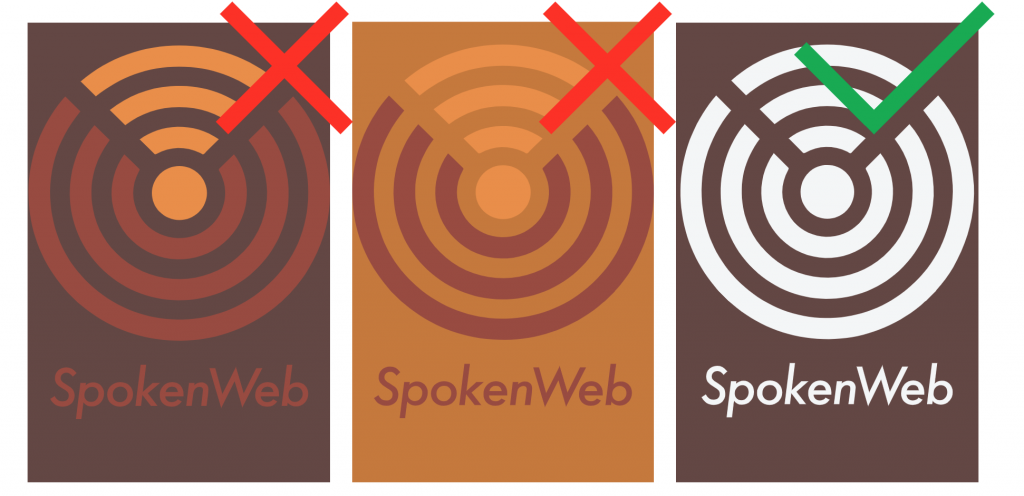 Skew the logo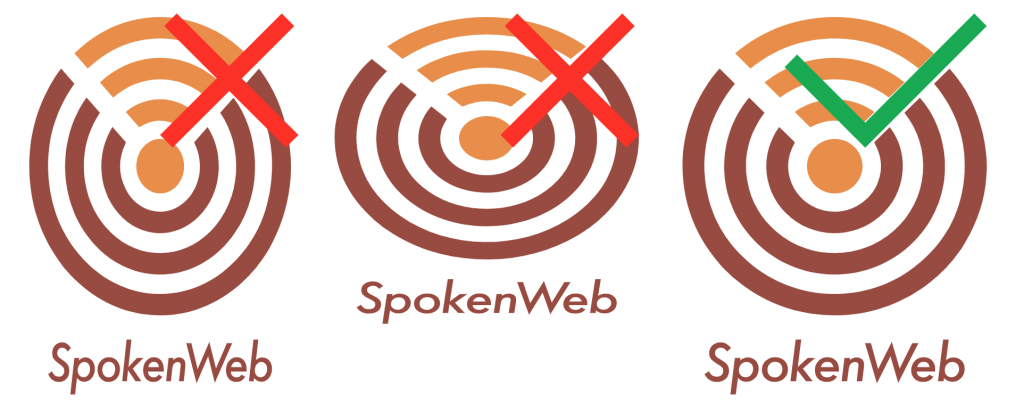 Overlap or crowd the logo
The logo should have an empty perimeter around itself the width of the centre dot.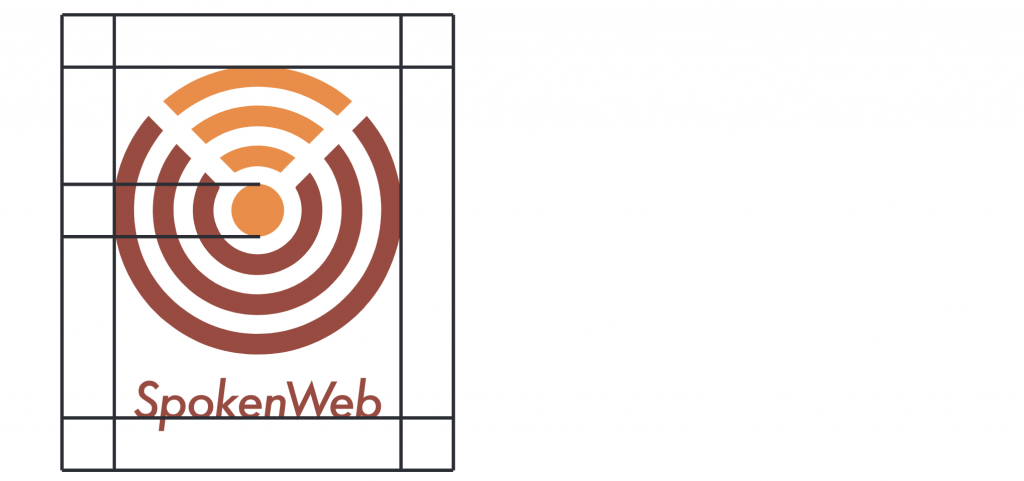 Visit the SpokenWeb Logo resource page to download logo files.
FONT USAGE
Futura is the font of choice for all SpokenWeb branding. If Futura is unavailable, a similar sans serif font, such as Tw Cen MT should be used. Wherever pre-designed materials are packaged with Futura, Futura should remain in use for these materials.
COLOUR USAGE
The SpokenWeb brand includes five colours: red, pale yellow, orange, off-white, and charcoal.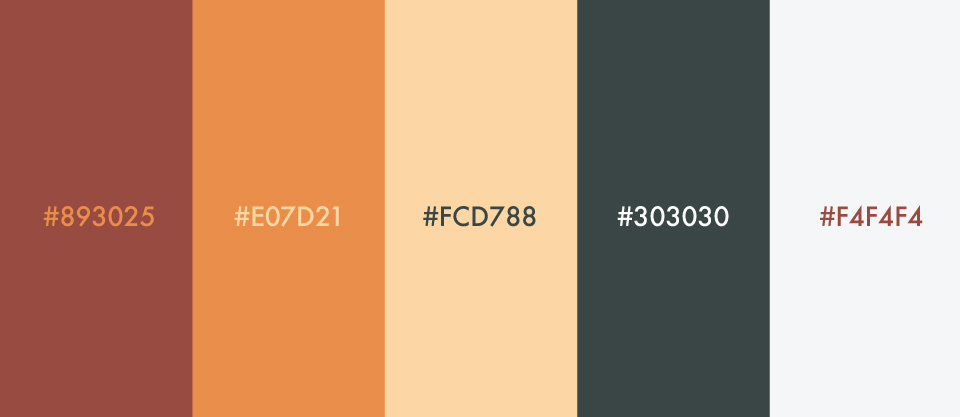 When designing branding materials, the red and orange should always feature prominently.
Designs that use only the charcoal, white, and pale yellow are not acceptable.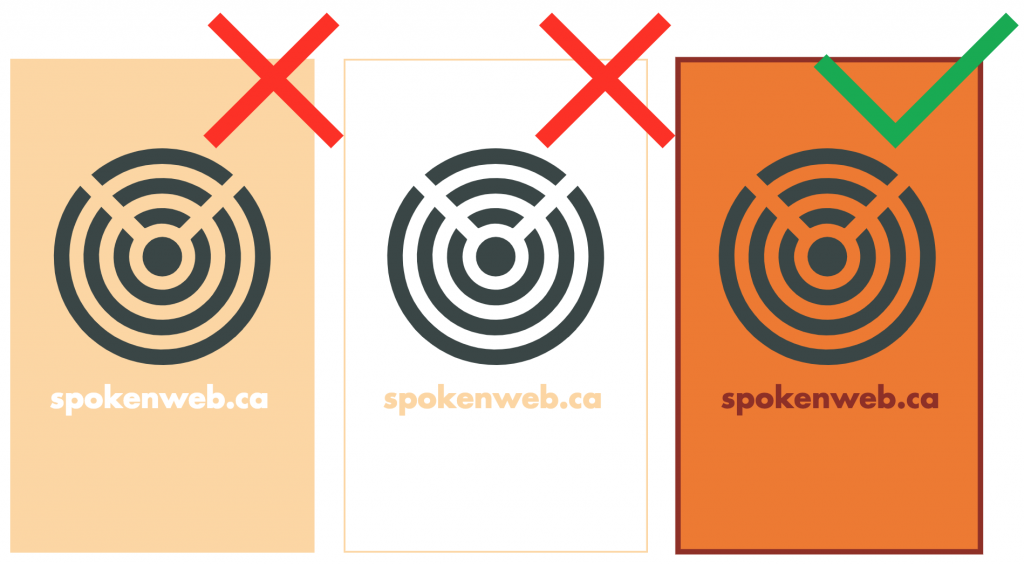 STYLE GUIDE
OVERVIEW
It is important to acknowledge, verbally and/or in writing, the role that SSHRC funding has played in our research activities, including events, talks, papers, publications, or any other form of research or creative activity or output.
As the SSHRC communications guidelines note: "Federal support for research is an investment by the people of Canada. As such, it is important for taxpayers to know how their research dollars are being spent. By demonstrating the social, economic and cultural value of their social sciences and humanities research,SSHRCaward recipients help strengthen public understanding of and support for SSHRC-funded research."
Such acknowledgments should be made in all public communications including:
media interviews, speeches, and presentations at conferences and workshops; conference or workshop materials, web materials, podcasts, posters, press releases and other media materials;
artworks, installations, exhibits and public performances;
submissions to peer-reviewed publications, citing the name of the specific program and the funding opportunity it has yielded.
How to Acknowledge the SpokenWeb SSHRC PG
When you acknowledge the support you have received from the SpokenWeb SSHRC Partnership Grant verbally or in writing, you must make it clear that your research project was supported by SSHRC. In written formats, you are required to use the SSHRC logo in conjunction with a statement that makes it clear that your work has been supported by SSHRC. The most simple statement to this effect would run as follows:
This [research] was supported by the Social Sciences and Humanities Research Council of Canada (SSHRC), in particular through the SpokenWeb SSHRC partnership network. For more information, see: spokenweb.ca
How to Describe the SpokenWeb SSHRC Partnership
Beyond the simple statement provided above, it may sometimes prove appropriate to provide more information about the SpokenWeb partnership research program of which a research/creation activity or output is a part. The following text provides some basic descriptions of the SpokenWeb SSHRC partnership that you may draw upon, adapt and integrate into your statements, introductions and documents. These descriptive statements of the SpokenWeb are presented to help you describe the nature and purpose of the partnership and its research program:
Funded by an SSHRC Partnership Grant, The SpokenWeb is an international, interdisciplinary partnership consisting of 13 universities, 3 community partners, and a team of over fifty researchers (plus an additional thirty students and post-doctoral fellows) from a wide range of disciplines with the goal of preserving and activating archives of literary sound recordings for use in research, teaching and artistic creation. For more information, see: spokenweb.ca
The full title of this program is: The SpokenWeb: Conceiving and Creating a Nationally Networked Archive of Literary Recordings for Research and Teaching.
Use of the SSHRC and SpokenWeb Logos
The SSHRC logo and the Government of Canada identifier are important parts of SSHRC's brand and must appear on your communications products.
The SSHRC logo is not to be used on its own, and must always be accompanied by the statement: This research was supported by the SpokenWeb, a Social Sciences and Humanities Research Council of Canada Partnership Grant.
Please follow the complete guidelines set out by SSHRC on the use of its logo.